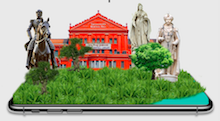 Did you know that the bandstand in Cubbon Park, Bangalore was originally built in Glasgow? Yes. You read that right. This beautiful structure was brought to Bengaluru and assembled. It was initially placed near Seshadri Memorial Library and moved here only later in 1937.

Did you also know that Lord Cubbon, after whom Cubbon Park is named, resided in Raj Bhavan? His erstwhile residence is now the official residence of the Governor of Karnataka.

Cubbon Park, the lung space of Bengaluru, has a lot of history associated with it. It houses some of the major administrative buildings of the city.

Join this heritage walk with FlippAR Go and discover the best of Cubbon Park with augmented reality. A guide will walk you around, taking you to several places of interest, while giving you well-curated, credible information throughout your journey. Heritage walks around Lal Bagh botanical garden and MG road are also available.
Book your slots now and show off your knowledge in history to your friends!